What is a "ghost light"?
Ghost lights are "naked" lamps left on after other theatre lights are turned off. They exist for several reasons, according to legend: either to ward off or appease a theatre's ghosts; to provide safe after-hours illumination amidst props and sets; or to prevent spirits of former actors from hexing the theatre.
Other articles by the same author
Wealthy Theatre
12/23/10 03:00pm -
NONPROFITS
As you may know, Community Media Center's Wealthy Theatre kicks off its Centennial Celebration at Midnight on Dec. 31, 2010 - at the Starlight Six New Year's Eve Concert, on the theatre's main stage, in Peter Wege Auditorium.
At Midnight, Wealthy Theatre will launch the WT Centennial Celebration with the inauguration of a "ghost light." The house lights and stage lights will be lowered, and the Centennial year (2011) will be welcomed in with a song sung by the light of this lamp (pictured below).
"Ghost lights" are part of a long tradition in theatres, especially historic venues like Wealthy Theatre. They are lamps left onstage when the rest of the lights are dark. Typically, a ghost light is a very simple lamp, consisting of a naked bulb mounted in a wire cage.
A hallmark of our upcoming Centennial is a capital campaign is "greening" Wealthy Theatre (details here). Our ghost light would be a symbol of the launch of our greening initiative: we knew we couldn't use an ordinary bulb. Even compact fluorescent presented issues, environmentally. LED bulbs are great, in terms of energy consumption (10% or less than regular incandescent bulbs) but they weren't bright enough. Until this one came out: 600 lumens of light and 30,000 hours of life!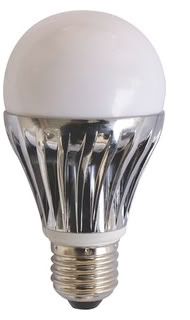 Having found the perfect bulb for our very specific needs, we continued planning to embrace this enthralling part of theatre lore.
Most sources call for the ghost light to be placed downstage center (the part of the stage closest to the audience, in the middle) while others claim center stage and still others, upstage (farthest from audience.) The practical use of a ghost light is mainly for safety. The presence of a light onstage at all times prevents people from falling into the orchestra pit, tripping on set pieces, or stepping on props - and quite simply, a ghost light allows you to find the light board, to turn on the rest of the lights!
It is unclear where or when the term ghost light originated but it has been in use for some time. Some call it a "night light," while others refer to it as an "equity lamp" because - supposedly - there once was a clause in actors' union contracts that mandated at least one light be left on at all times. There is no proof that such a rule ever existed, but its legend perists.
The superstitious reasons are perhaps more interesting, when it comes to ghost lights. One superstition holds that all theatres have ghosts, so a ghost light is one of many ways theatres "appease" their ghosts. Another example of how theatres appease ghosts: The Palace Theatre, London, keeps two seats in their balcony permanently bolted open to provide seating for the theatre ghosts.
Some ghost lights are intended to keep ghosts away; others are there to "give the theatre's ghosts the opportunity to perform onstage," so the ghosts won't curse or hex the theatre during regular hours. The ghosts are supposed to be former actors. (It is for former actors turned ghosts that most theatres declare one day of the week "dark" and close - Wealthy Theatre observes this tradition on Mondays.)
Another superstition surround ghost lights and "dark" days during the week: the ghost light is left on to avoid the bad luck of being "dark" for too long, and for the wrong reasons (i.e. the theatre closes and stays "dark" due to lack of money, failed productions, etc.)
Historically, ghost lights have served a practical purpose: the backstage area can be cluttered with props, set pieces and costumes; without a ghost lamp, someone who enters the darkened space might be injured whilst looking for something. And let's not forget about the burglars who might sue the theatre, if they got injured falling off the darkened stage while ransacking the place!
With the inaugural lighting of the WT ghost lamp on New Year's Eve, Wealthy Theatre staff will begin the nightly ritual of setting out our lamp when we turn all others down. We'd like to thank CMC staff member Geoff Hudson for basically making this lamp from scratch, using a vintage music stand, an old microphone stand, and some odds and ends from our basement.
Please consider joining us on New Year's Eve for the Starlight Six concert, or perhaps visit our WT Centennial Campaign micro-site here and experience a preview of the upcoming year of celebration and innovation at your Wealthy Theatre!
The historic Wealthy Theatre is a multimedia-capable venue for use by the community, providing a platform for the free and legal expression of individuals, nonprofits, artists, community leaders, filmmakers and more.
Comments, like all content, are held to The Rapidian standards of civility and open identity as outlined in our Terms of Use and Values Statement. We reserve the right to remove any content that does not hold to these standards.