Other articles by the same author
Other articles by this author
Until Love Is Equal
10/18/11 10:14am -
NONPROFITS
The anti-discrimination issue in Holland, MI has reached a pivotal moment. It is more uncertain - and more important - than ever. "A policy is a temporary creed liable to be changed, but while it holds good it has got to be pursued with apostolic zeal." (Mohandas Gandhi.)
by Erin Wilson
Until Love Is Equal
We've reached a pivotal and complicated moment with our efforts in Holland, MI. It cannot be reduced to a soundbite. Here is the state of the issue to present, including several startling developments this month.
Background
In late 2010, Holland City Council asked its Human Relations Commission (HRC) to craft an ordinance revision to protect LGBT residents and workers from discrimination. HRC is a commission appointed by Holland Mayor Kurt Dykstra. They studied the issue for about a year.
In June, HRC recommended unanimously to City Council: add protections for LGBT residents and workers, eliminate perceived sexual orientation or gender identity as factors for job and employment. Remove these factors from the hiring or housing application process.
Holland already protects the civil rights of tall folks. And overweight people. And Christians. And Tulips.
But not LGBT people. And sadly, Holland voted 5-4 against the HRC recommendation. Rather than protecting LGBT residents and workers, Holland City Council protected legalized discrimination against LGBT.
The Devil is in the details
We've listened to every minute detail of Council members' objections to the revised ordinance - accordingly, we've arranged for regional speakers to address concerns from law, religion, medicine, psychology, experience and more. We've been at every Holland City Council meeting since June, broadening the conversation. Or so we thought.
Recently, some Council members said they could not vote to protect against discrimination because there were no proof it existed. (If you carried this logic to its conclusion, a gay man would need to be harmed in order to justify a law to protect him.)
Nevertheless, we tried to provide the requested information. We asked Holland's Public Safety Department for data; however, without an ordinance, this data doesn't exist. We considered asking past victims to come forward but this carried implications, itself.
And then we watched the tape. Until Love Is Equal reviewed over 30 hours of video and transcripts from Holland City Council meetings and discovered testimony seeming to establish clear and ongoing discrimination. Right there from the podium at City Hall.
The video at the top of this article is one such example. There is also this one. And this one. And this one. And this one.
In addition, we found these instances of malice and prejudice - also on the record at Holland City Hall. Communications from the audience.
We have presented this. Nothing has changed.
In the past month we've pursued every available and requested option. Now, however, our options are being taken away.
And yet there is reason for hope.
The artists and the "gay thing."
For our Oct. 22 Autumn Gala benefit (at The Piper Restaurant, 2225 South Shore Drive, Holland, MI) we attempted to shop local: we asked a Holland based jazz band to provide the music for the formal event. We highlighted this band for over a month in our formal promotions of our Gala fundraiser. And then we got the call: several of the band members saw on our website that the Gala was "a gay thing" and they refused to work with us, for that reason. Just like that, our event in Holland lost its Holland band because there are gay people involved in it.
I won't print the name of the band. A City Council member privately suggested we should not shame those who disagree with us - he said this would constitute discrimination. I'm not sure how I feel about that logic but we don't want to adversely affect the lives of artists. We want people to feel protected from discrimination. And our methods have to resemble our goals.
I should mention that - since first mentioning this band pulling out - we've had at least a dozen musicians offer to donate their musicianship for the Autumn Gala.
Media blackout: it's a "gay thing."
We hoped to expand our message to the general public. Newspaper ads were too expensive; television and radio were out of the question. So we began raising money for a simple billboard.
A local graphic design firm donated professional artwork (see below). Several local business owners generously contributed. We began negotiating with the local billboard company that controls almost all spaces in the city of Grand Rapids. The conversation was going swimmingly. We got quotes, locations, specs, etc. This particular billboard company posts messages for everyone from McDonald's to groups urging women to get concealed firearms and carry them in their purses.
We had described the artwork and provided samples. Then we submitted the final version, to specs.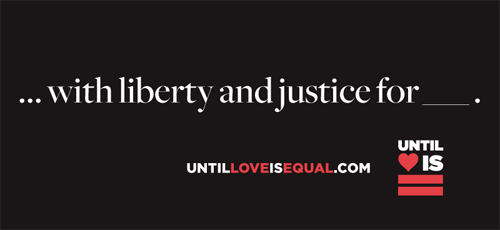 Michael Tuffelmire (decorated U.S. combat veteran) is a fellow member of Until Love Is Equal who coordinated with the billboard company, as he previously contracted with them many times in other volunteer work (including the recent transit initiative in Grand Rapids.)
But Michael never got a phone call like this. Although the billboard company didn't have any issues with the artwork, they told Michael they "refused to work with us" after going to our website and seeing who/what we represented. They told Michael they feared they'd "lose future clients" if they worked with us.
This refusal was absolutely crushing. The other billboard company is four times more expensive. They control so many billboards in West Michigan. Yes: they have the right to do business with whomever they like - or not do business with those they consider social pariahs.
But isn't this service supposed to be open to the public? Yes, they're a private company; but they're part of a national broadcasting company that I hoped would have higher tolerance for working with the LGBT community. They control a predominance of space. Couldn't their service be considered a public accommodation? They refused to provide services to our organization because of who we are. We're a group that is supporting LGBT people. Our movement was discriminated against because of who we are and what we represent.
I wonder about this because it was Grand Rapids: the minority represented by Until Love Is Equal is a protected category under a 1994 ordinance that protects LGBT from discrimination. But I'm no lawyer. And at the end of the day, despite any protestations we may have, or protections that may exist, it's yet another outlet of the democratic process removed from the options we're allowed to pursue.
Running out of options, we have the real possbility of returning donations (for the billboard) and apologizing to the contributing businesses.
You don't have to go home, but...
On Oct. 5, 2011, Holland City Council members suggested - in a shocking conclusion to an otherwise regular meeting - that our strategy of appearing before them "wasn't working and we should try something else."
There was no suggestion about what we should try, in exchange for broadening the conversation at Council meetings. Just... not that, anymore. They "were not going to change their vote" and the experts and residents we arranged to appear before them "hadn't swayed them one bit." So we should "try something else."
Until Love Is Equal has conducted itself in a consistently superlative manner: several members of City Council have affirmed this to me. I'm sure if you asked them, they'd also say we're welcome to continue to attend, and speak. But there was no misinterpreting the sentiment expressed on Oct. 5, to "try something else." And we always have been responsive to the preference of City Council, regarding etiquette.
In fact, we've been respectful of their preferences to a fault. My first email from our new domain (untilloveisequal.com) went to the Honorable Kurt Dykstra, the mayor of Holland. In it, I asked for his advice on protocol: would it be permissible for us to list the contact info displayed on the City of Holland website? Would these telephone numbers intrude on the private or professional lives of Council members? Mayor Dykstra replied and advised and we adhered to these preferences.
I also introduced myself and invited him, with highest regard, to consider this channel of communication open: should he ever consider our efforts bordering on discourtesy, I'd be grateful for the opportunity to correct it.
And in the months that followed, I emailed Mayor Dykstra further with updates, out of continued concern for the preferences of this body.
So on Oct. 5, when so many Council members indicated a preference that we try something else... I knew we could not disregard this. The precedent behavior of Until Love Is Equal had been responsive and unfailingly courteous. I turned to my son, Riley, who'd accompanied us to nearly every City Council meeting, and said, "I fear this may be our last City Council meeting."
I never had forced Riley (age 10) to come with me: he wanted to. He was fascinated by it.
He nodded slowly. "Yeah," he said. "I got that impression when they started talking about us."
The artists, their spokesperson, "some queer group."
The largest arts competition in the world takes place in Grand Rapids - a West Michigan city that enacted LGBT civil rights protections in 1994, the same year as San Francisco.
The spokesperson for this international arts competition lives in Holland, serves on Holland City Council, and voted against the Holland Human Relations Commission recommendation to protect LGBT residents and workers. If you asked him, he'd say he supports the ordinance. He'd even say he supports gay marriage.
The ordinance to protect LGBT is several rungs below gay marriage, on the scale of "controversial" law. The ordinance is basic civil rights stuff, neither condoning nor elevating LGBT - it just requires employers and landlords to consider *other* factors in the application process, like references, credit history, performance, etc.
This individual had the power to make the vote pass, to protect LGBT folks. In a 5-4 vote, every "NO" vote is the deciding vote against, mathematically speaking.
Few complained that such a person represented the world's artists in Grand Rapids, as their spokesperson. The few who did… were mocked by some people associated with the international arts competition. It was pretty shocking, actually.
I should mention that several prominent artists refused to participate in the arts competition because this individual would've been their spokesperson. But how did it get to that point? Would we tolerate that if he'd voted anti-woman or anti-Hispanic?
These are the layers of the onion.
A West Michigan business owner informed me privately: they lost a lucrative business opportunity with a company located near Holland because his Grand Rapids business displayed an Until Love Is Equal sign. It was a deal breaker. End of negotiations. End of lucrative opportunity. Nothing to do with finance, credit or reputation. Exclusively because of the gay thing.
I apologized to this young business person. He shook his head and smiled: "If they weren't going to do business with us because of that, then you really saved us, because we're not interested."
Self-determination: two-edged sword
A state representative from Rochester (MI) introduced a state law to nullify all municipality ordinances that protect LGBT residents and workers. To undo all local laws on this matter. Whatever cities and townships have decided... would be rendered moot. In this scenario, Holland would be barred from voting to approve the revisions unanimously recommended by their own Human Relations Commission. And suddenly, so-called "small government" Republicans would set aside self-determination in exchange for an end that supposedly justifies the means. This time, anyway.
I should mention that several West Michigan Republicans have responded to our communications by saying, "There's no way in hell I'd vote for this bill."
What a thing, to be a gay American in the 21st Century.
Governments rightly have expectations of residents and workers, e.g. taxes.
The City of Holland on June 15, 2011 effectively told a minority it didn't deserve expectations equal to the majority, e.g. protections against discrimination.
It's as if the Americans who care most about freedom... care most about what other adults do in privacy. They'll adjust your liberties accordingly.
One wonders what City Council members would do if someone impinged on their freedoms. For instance, some refer to Christianity as a lifestyle choice - a behavior. While I think it's ingrained, let's face it: this argument is academic. People ought to be free to act on this impulse, this passion. I imagine any City Council member would fight "with apostolic zeal" for such freedoms, were they threatened.
But what to do when your fight is blocked at every turn?
I should mention there are several amazing Council members in Holland and one of them - when a particularly hateful, evil resident compared LGBT to thieves and rapists - turned his Council seat 180 degrees clockwise, refusing to acknowledge this twisted soul at the podium.
Welcome to our world.
LGBT speakers at Holland City Council meetings have had to endure opposing comments from the podium at City Hall that verge on sociopathic, comparing them to pedophiles and accusing LGBT of complicity in the crucifixion of Jesus Christ. These LGBT folks might have attended if Until Love Is Equal hadn't invited them. Therein, we're indirectly responsible for causing them to hear the other sides' hateful comments. This was difficult: weren't we supposedly trying to prevent such damage?
Catherine Herrman (psychologist who happens to be a lesbian) spoke at one such meeting. After she spoke, she endured such comments. After the meeting, I apologized to her.
Catherine smiled: "Welcome to our world," she said.
A world where contempt and intolerance were normal conditions. This is what you get used to. It broke my heart - even that she could attempt to make light of it. Why is it like this? Aren't we better than this?
I should mention that Council member David Hoekstra rebutted an anti-ordinance statement one time by saying, "Remember, the goal isn't to be the same as other communities - it is to be better."
What can we do to make this right?
Holland City Council is a body of lawmakers elected to lead. Elected leaders formalized American civil rights history. The majority does not vote on the rights of the minority. The majority of whites wouldn't have voted for equal rights for blacks. The majority of men wouldn't have voted so women to vote.
Yes it's difficult. Yes it leads to difficult transitions. And yes: it is the obligation of the republic to protect and defend the vulnerable.
If you remain unconvinced that the LGBT minority in Holland is vulnerable then watch this. Or this. Or this. Or this. Or this. Or this.
If you want to support equal rights in West Michigan go here.
What happens next is up to all of us. Please stand. Until Love Is Equal.
Until Love Is Equal is a grassroots organization based in West Michigan, dedicated to the protection of personal liberty and full civil rights regardless of sexual orientation.
Reports on: Human Rights
Comments, like all content, are held to The Rapidian standards of civility and open identity as outlined in our Terms of Use and Values Statement. We reserve the right to remove any content that does not hold to these standards.