My name is Michael Tuffelmire and I served this country in Kosovo, Operation Iraqi Freedom (OIF) and Operational Enduring Freedom (OEF) as a Infantry Team Leader.
As a United States military veteran you tend to bond quickly with other veterans when you meet them. In fact, the bond seems to exist before you even meet the other person. Most of us can tell someone is a fellow vet just by a simple look or a brief exchange of words.
This is the case with Liz Stegman and me. We met a few months ago at an event downtown in Grand Rapids, and within minutes we were exchanging stories about the service, as veterans do. I learned that Liz served as an LGBT soldier and medic during a time when you could get discharged dishonorably for doing so. This was an eye-opening experience.
Most veterans know a fair amount of military history. I am particularly interested in this and always have been. I know that as long as militaries have roamed the world, so too have different sexualities. There is considerable evidence that great military commanders such as Alexander the Great or Julius Ceasar had relationships with men and women. Same-sex orientation among military leaders has been referenced even in great works like Homer's The Iliad, which detailed the relationship between Achilles and Patroclus during the Trojan War.
According to a 2010 article in the Washington Post there are an estimated 66,000 members of the Lesbian Gay Bisexual and Transgender (LGBT) community serving in our military. This makes up two percent of the overall military force. These statistics however are most likely on the low side because they were gathered before the historic repeal of the "don't ask, don't tell" policy on September 20, 2011. The cost/benefit on this policy was extraordinarily bad, financially weakening the military. According to the Washington Post $193.3 million was spent between 2004 to 2009 to replace 3,660 discharged for violating the policy.
Liz and I were both stationed in Germany and have fond memories of our time overseas. Recently Liz and I sat down at Brick Road Pizza, located in Grand Rapids, and had a fascinating and heartfelt conversation about our military experiences.
Liz joined the Army in 1990. She enlisted as a 91B Combat Medical Specialist (currently a 68W) also known as a "Combat Medic." She did her basic at Fort Dix, New Jersey where she was honored as Soldier of the Cycle, which means she distinguished herself as the best soldier out of her peers.
She finished her Advanced Individual Training (AIT) at Fort Sam Huston, Texas. From there she was stationed at Bad Krauznach, Germany with the 8th Infantry Division. She remained there until 1993 when she PCS'd (Permanent Change of Station) to 606 Medical Detachment in Southfield Michigan, where she served until 1994. That is when she received her second Honorable Discharge. During her enlistment Liz earned an Army Achievement Medal, the Expert Marksmanship Badge (EMB), and the Overseas Service Ribbon.
I joined the United States Infantry, also known as 11B, in 2000. I was trained at the Infantry Training Brigade located at Fort Benning, Georgia. My first Duty station was with the 1st Infantry Division in Schweinfurt, Germany. I was deployed in 2001 to Multi National Brigade East located in the Balkan country of Kosovo. In 2002 I PCS'd to Fort Drum, New York as part of the 10th Mountain Division. I was an Infantry team leader deployed from 2003-04 as part of Operational Enduring Freedom (OEF) and Operation Iraqi Freedom (OIF). From there I served two years with the Michigan National Guard.
Liz and I both held honorable jobs in the military. We both followed orders and served our country honorably. The difference between the two of us is that Liz is a homosexual and I'm a heterosexual. During our enlistments, Liz's sexual orientation would have been considered a criminal offense under the Uniform Code of Military Justice (UCMJ).
Liz found out her true sexual identity while she was in the military. She explained that homosexuals faced an unwelcoming and, at times, threatening environment in the military, and that always weighed heavy on her shoulders. She had originally planned to make a career of the military but ended up choosing to exit the Army after her initial enlistment obligation had been met. Liz elected to leave the Army for one reason: there was no job security in the military if you were gay. She could have served a full military career with distinction; but at any point during such a career, she could have been "outed" as a homosexual. She would have been given a less than honorable discharge and lost all Active duty or Veteran Affairs benefits.
Her decision (to leave the military after her first enlistment) came after she attended a farewell party for a fellow soldier who was PCSing. Two of the many guests at this event were her then current girlfriend, who was also a soldier in Liz's unit, and her Company First Sergeant, which is a high level supervisor. During the party Liz was approached by her intoxicated First Sergeant where he propositioned her for sexual favors in lieu of exposing her as a lesbian. "I realized at that moment that my military career was out of my hands and that it was subject to anyone's interpretation of my sexuality. Anyone for any reason could have destroyed my career, and I wasn't prepared to take that risk," Liz said.
My experience in the military was different from Liz's. During my time in the military, I experienced an environment of all men who were expected to be tough and work as a team. I knew that homosexuality was unwelcome. If you were gay you certainly took all caution to hide it. However, not all soldiers in my unit believed this. A good part of us did not care about people's sexuality. We were in one of the most dangerous jobs in the military. We needed everyone in the unit to accomplish the mission, especially combat medics. Our largest threat was major injuries during either intense training or combat. We would have counted on medics such as Liz to be there for us even in the most dangerous of situations.
We must all understand as Americans that our freedom is not free. Citizens such as Liz give up their freedoms and safety in order to ensure Americans sleep safe at night without threats of invasion or foreign military strikes.
"I served to ensure peoples' freedom but I do not have the luxury of all those freedoms. I cannot marry Jayne, my partner of four years, even though the sacrament of marriage is protected under the freedoms I sacrificed to uphold," Liz stated.
Liz also is not protected from discrimination in many American cities. One of these cities is in Liz's own region: Holland, MI. Liz has many fond childhood memories of spending time at her uncle's cottage located on Lake Macatawa. Yet she would earn no protections from the City of Holland, who had the opportunity to protect her by vote this summer - much as Liz had served to protect the City Council members and their families, by virtue of her service in the United States Military for all those years. If Liz faced discrimination when looking for employment - or if she and Jayne are denied housing in Holland based on her sexual orientation - they are powerless.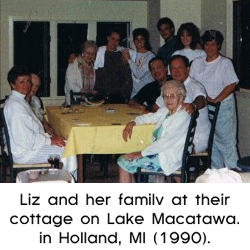 This is because of Holland City Council's June 15th vote against members of the LGBT community as a protective class, which went against the unanimous recommendation of the City's own Human Relations Commission.
It is important to understand that - whether straight or gay - people serve their country and should be held under the equal rights of the law. Liz and I are both citizens of West Michigan who defended the freedom of all, not just of some. The vote in Holland must be reversed so Veterans like Liz will be legally entitled to the same freedoms that all citizens in West Michigan enjoy. She has earned it.
When you honor Veterans at events, memorials or parades, please remember that we all play a role in protecting one another. City Council members serve communities and must do their duty to protect residents and workers, just as Liz and I have done in serving this great nation - the United States of America - in our voluntary duty to protect all residents and workers of this country. The United States Army would still have one of its best medics in the field, and I can tell you this is one of the most vital positions in all of the military. If only the discriminatory policy had ended sooner, Liz would more than likely still be serving this nation. How long can Holland wait, before this region loses some of its most valuable individuals? That much is up to you and me.
The Rapidian, a program of the 501(c)3 nonprofit Community Media Center, relies on the community's support to help cover the cost of training reporters and publishing content.
We need your help.
If each of our readers and content creators who values this community platform help support its creation and maintenance, The Rapidian can continue to educate and facilitate a conversation around issues for years to come.
Please support The Rapidian and make a contribution today.